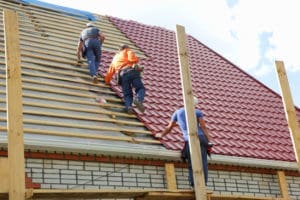 We can talk about specific roof issues depending on the climate in the area. Florida`s climate can be rough sometimes, especially during summer, with rather frequent storms, sometimes accompanied by hail. Such humid climate generates different roofing problems that we are going to explore in the following lines.
As the roof ages, it will become more fragile and less able to withstand the challenges of Florida weather. In this context, a hurricane may cause structural damage and even blow the entire roof of a building.  Luckily, this extensive damage is rare, but reduced wind uplift resistance is quite common and translates into frequent billowing and tenting.
There are also frequent problems caused by the effects of the humid weather, in most of the cases translated by moisture build up and premature deterioration of the roof. Stormy weather often causes roof leaks because of direct or indirect damage to roofing materials and drainage systems. Ponding water is also a rather frequent problem specific to flat roofs.
Another issue specific for roofs in warm and sunny areas refers to their energy efficiency. The challenge is to make them be reflective and avoid absorbing UV radiation. Installing a reflective roof or customizing the existent one to be more reflective improves the indoor comfort and keeps the energy bills low.
To keep your roof in tip top shape, contact a well established Pensacola roofing company to preform roof inspections, installations, and repairs.