When it comes to water damage, it's extremely important to protect your roof at all costs. While water damage can happen through many different ways, rainfall and storms are some of the most common of them, often leading homeowners to have to repair the interior structure of the roof and have to strip down the entire exterior, so they can replace it with a sturdier roofing material.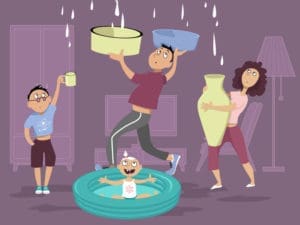 To avoid the costs and problems caused by water damage, consider the following recommendations:
Get serious about roof maintenance. For residential roofing systems, it's important to get a HE Roberts Roofing professional team to inspect your roof and take care of all the maintenance related issues at least twice every year, on a yearly basis.
Another important measure you can take is to clean your roof and gutters regularly, and make sure all the debris that would cause problems to your roof or clog your gutter system will be safely removed before the autumn comes.
Make sure you thoroughly inspect your roof after a strong storm. That way you can spot if any of the flashing or shingles were damaged and fix the problem before the next storm hits. Failure to do so could result in leaks and lead to severe water damage causing problems not only in terms of damaging your roof, but also affecting your belongings and interior walls.