We live an age of DIY projects, because information, step-by-step guides and tutorials are available everywhere and make people believe that they can handle different tasks, which might be true to some extent. However, when it comes to the roof, nobody should take the risk, because the damage amateurs can do is way more expensive than the savings you do by not hiring a professional metal roofing Panama City FL roofer.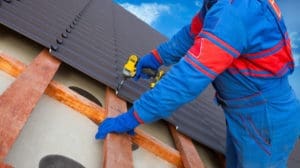 Anything about the roof must be considered very seriously, and finding a licensed roofer should be on the top of your priority list and here is why:
Working with a licensed roofer is cost effective, because you avoid unnecessary risks that may cost you a lot of money in the future and you may also get discounts, various payment options etc. Besides, you will not have to worry about techniques and tools necessary for your project; a professional roofer has everything.
A licensed roofer is directly interested in working with quality materials, because its reputation is at stake. Therefore you can be sure that you get the best recommendations.
Finally yet importantly, a professional Panama City metal roofer provides efficiency and warranty of labor and the materials. Warranty is particular important because it protects you no matter what happens after the roofing project is complete.