Cleaning a roof can be a lot of work, so you have to be prepared when you need to do it. As a result, knowing when it has to be done can be a great asset. Here are just a few instances when you should consider washing your roof as soon as possible: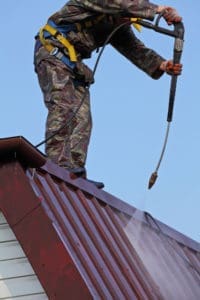 First of all, most roofing experts will recommend that you wash your roof and clean away all the debris – such as broken off branches and leaves – at least twice every year. This includes instances when your roof was just recently repaired, since it's not a good idea to ignore the need for roof cleaning, even if it doesn't seem like it's needed.
The roof looks dirty and you can even see it from afar. A dirty roof is not just unsightly, but it can also cause a lot of structural problems if left as it is – especially if it attracts pests and insects that can make their way into your home and cause a lot of damage from the inside.
It can also happen that you own a more special, high maintenance roof designed to be attractive rather than practical. In such a case, it's usually best to follow the recommendations of Pensacola roofing contractors as to when you should and shouldn't clean your roof.