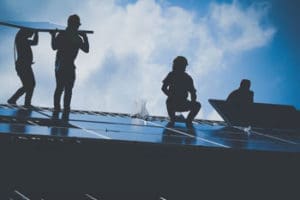 Custom solar panels can come in all shapes and sizes. In many cases, they can also be installed in multiple places, including on open fields and on large flat or sloped roofing systems. But what makes custom solar panels so special is that they can be adapted to practically any setting, even if you don't have a large amount of space on your property.
Real estate properties that don't have a significant amount of space in their yards are typically regarded as unsuitable for solar panel installations. Most solar panel arrays require large open spaces where they can be installed along with the mechanism that allows them to pan and rotate to meet the sun in order to attain an ideal level of efficiency.
In the case of custom solar panels, the size and shape of the array can be determined by the homeowner, and the array itself can be either fixed or movable. If there isn't enough space in your yard, it can be installed on top of your roof, and the amount of required panels can be adapted so that it fits perfectly on top of your roofing system. Contact solar installation Panama City roofing companies for the best advice and services regarding mounting solar on your roof..
Custom solar panel arrays are also a worthwhile investment because of their exceptional energy efficiency and the tax rebates that you can benefit from after installing them.