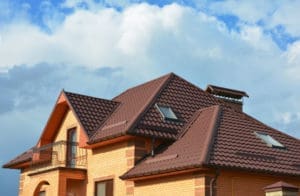 How do you choose the right roof design and material? – This is the first question that comes to mind when it comes to replacing or designing a roof for our home. In the following lines, we will try to offer you some of the necessary answers and inspiration.
The design and materials from which you can build a roof differ and their choice should depend on these basic factors:
the architecture of the house
the area where it is built
the prevailing climate
There are different roof designs you can choose from:
The four-sloped roof (one for each side of the house) and the two-sloped roof are the most commonly used for residential buildings
Single-sloped roofs – mainly used for multi-store houses
Roofs with uneven slopes (with an asymmetrical shape) – this type is used for architectural projects with one floor on one side and two floors on the other side
Flat roofs – these have been used mostly on commercial buildings, but nowadays they are more and more popular on residential buildings with a modern design. The slope of such a roof is less than 5 degrees, so these constructions are not recommended in geographical areas prone to severe weather, especially heavy snow accumulations and frequent rainfall
Roofs with complex shape – They are particularly aesthetic, but also expensive because of their complexity.
You can find more detailed information at https://herobertsroofing.com/. Their experienced professionals will talk to you about the advantages and disadvantages of each roofing material and design so that you choose the right one for your Pensacola and Panama City property roofing needs.